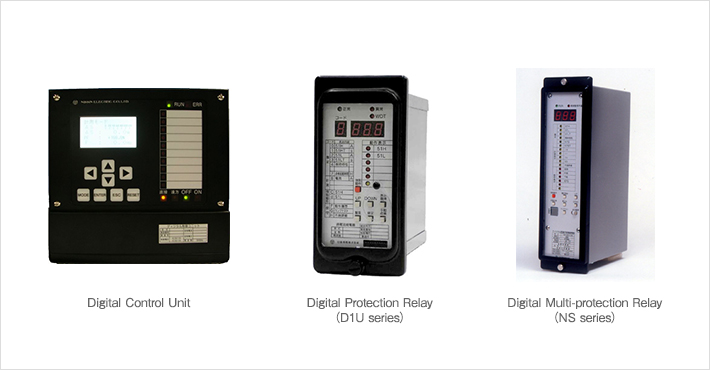 Protection relays protect electric circuits and equipment by detecting sudden changes in the current and voltage attributed to accidents in and outside equipment or overload, etc. and transmitting control signals to circuit breakers to isolate a fault section promptly from the power grid. There are various relay elements depending on the electric elements to be detected and equipment and circuits to be protected, etc.
Features
Our digital protection relays use a 32-bit CPU chip and are highly reliable with various constant monitoring functions and automatic inspection functions. They have the following features across the whole series.
Simple electricity input data (e.g., voltage, current) can be indicated by the measurement indication function.
Electricity input (e.g., voltage, current) readouts at the time of tripping can be indicated by the accident history indication function.
External sequence tests can be conducted on respective relay elements by the forced operation function.
Regarding the overcurrent elements, multiple time limit characteristics can be easily selected and set by operating the panel by taking into account the protection coordination with load equipment, etc.
*The specifications of these products are for use in Japan.
Rating
Digital Control Unit
Operating Temperature Range
Operation guarantee: -10~60°C
Restoration guarantee: -20~60°C
Operating Humidity Range
Daily average 30~80%
Installation Location
Indoor
Frequency
50/60Hz
Contact Output Rating
For Circuit Breakers
Closing Rating
DC110V 15A 0.5sec(resistive load)
Opening Rating
DC110V 0.2A(resistive load)
For Indication and Alarm
Closing Rating
DC110V 0.5A(resistive load)
Opening Rating
DC110V 0.2A(L/R=15ms)
Control Power Source
AC100V/110V(85~126.5V) MAX25VA or less
DC100V/110V(80~143V) MAX15W or less
Digital Protection Relay(D1U series)
Operating Temperature Range
Operation guarantee: -10~50°C
Restoration guarantee: -20~60°C
Operating Humidity Range
Daily average 30~80%
Installation Location
Indoor
Frequency
50/60Hz
Contact Output Rating
Closing Rating
DC110V 15A 0.5sec(resistive load)
Opening Rating
DC110V 10V 0.2A(resistive load)

| | |
| --- | --- |
| * | D1U type/NS type: The opening/closing rating is 110 VDC/0.2 A for the D1UEP-11/21. |

Control Power Source
DC100V/110V 5W or less/1data


* 9W or less for RDF only
Digital Multi-protection Relay(NS series)
Operating Temperature Range
Operation guarantee: -10~50°C
Restoration guarantee: -20~60°C
Operating Humidity Range
Daily average 30~80%
Installation Location
Indoor
Frequency
50/60Hz
Contact Output Rating
Closing Rating
DC110V 15A 0.5sec(resistive load)
Opening Rating
DC110V 10V 0.2A(resistive load)
Control Power Source
DC110V(DC88V~143V)